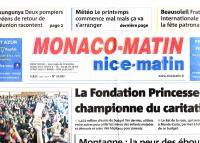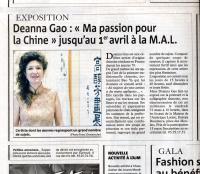 "Ma passion pour la chine" de Deanna Gao - Mars 2006
[...] "Ais toujours des yeux curieux et des mains appliquées..." est le conseil de Bao Ya donné à Deanna Gao.[...]
Mme Deanna Gao fera un exposé sur la peinture et sur la calligraphie chinoise, avec démonstration de cet art millénaire dans les locaux de la Maison de l'Amérique Latine, Monaco.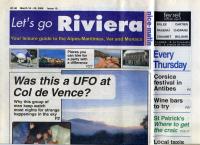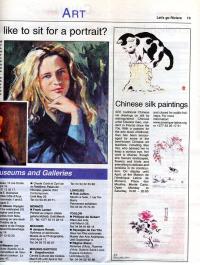 Chinese Silk Painting
See traditional Chinese ink drawings on silk by distinguished Chinese artist Deanna Gao, resident in France since the 70s. With a passion for the arts since childhood, Gao has been encouraged by some of the best-known Chinese art teachers, including Dao Yao, who advised her to keep a curious ese. Her work is diverse, through she favours landscapes, flowers and birds and everything is dedicate and feminine in its construction. On display until April, at the Maison de l'Amerique Latine de Monaco, Place des Moulins, Monte Carlo.